Topics on this page
Subscribe with AWS - Pay as you Go billing
For details on the billing methods and pricing, see About billing and pricing.
If you have been issued a private offer for Trend Micro Cloud One on the AWS Marketplace, see Subscribe to Trend Micro Cloud One with a private offer.
Select Continue to Subscribe > Subscribe.

Once subscribed, you'll see a message prompting you to click a button to go Trend Micro Cloud One to complete your registration:

If you can't complete this step, you can return to this page from your Marketplace Subscriptions page and complete the registration later.

Select Set Up Your Account, which takes you to the Trend Micro Cloud One sign-in page. On the tab for your account type, use your credentials to sign in to your existing account.

If you are not the administrator of your Trend Micro Cloud One account, you can copy the link from the banner and send it to the account administrator so they can sign in and complete the linking process. This process must be completed within four hours of selecting Set Up Your Account on AWS Marketplace.

If you don't have an existing Trend Micro Cloud One account, select Sign Up to sign up for one. After creating and verifying your user profile, you will be able create an account to link to your AWS Marketplace subscription.

Once logged in, you will be asked to confirm your subscription.

If you have a new Trend Micro Cloud One user profile, you will be prompted to select the correct account to link or create a new account for your AWS Marketplace subscription:

To confirm your subscription, you can also check the Subscription Management page in the Trend Micro Cloud One console, which will now show "Subscribed through AWS Marketplace" as the Subscription Type.
How do I switch an AWS subscription from one account to another?
Follow the same steps as above, but instead for steps 2 and 3, click the link under "Having issues signing up for your product?" instead of "Subscribe" (see image below). This will redirect you to Cloud One, prompting you to sign in, and to select which account to link your subscription to. After selecting the new account, the AWS subscription will switch from the old C1 account to the new one. The old C1 account will be given a 48 hour grace period, after which security service access will end.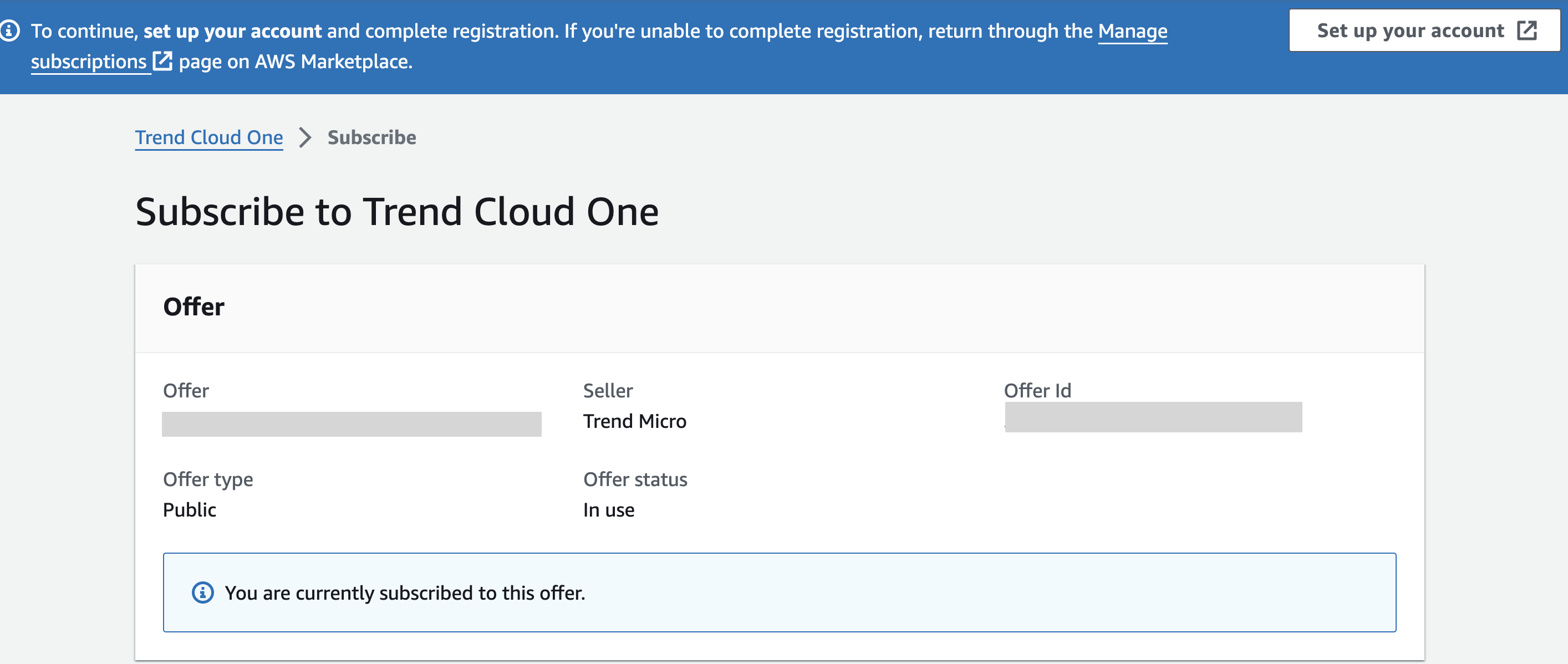 Switching subscription type
The procedure for switching your subscription type (for example, from annual billing to AWS Marketplace) is explained in About billing and pricing.