Cost Breakdown Summary
| | |
| --- | --- |
| Location | Main Dashboard > Select {Account} > Cost monitoring > Open dashboard > Cost Breakdown |
The Cost Optimization Add-on has been deprecated for new Conformity users with effect from April 2020.
Trend Micro Cloud One™ – Conformity provides cost breakdown and trend data for your AWS Account or Master Billing Account. This data will allow you to see how your costs have changed over time and which factors e.g. which services, are the main drivers of cost changes. Such data can be used for forecasting costs into the future.
Conformity provides multiple features for understanding your cost breakdown and evolution. Breakdown of costs can be viewed by:
Service
Environment
Owner
Tags - these are user configurable
Most expensive summaries
To help you quickly see the top contributors to your Account's costs and forecasts for the next month, Most Expensive Services forecast provides top 5 cost contributors by selected breakdown type.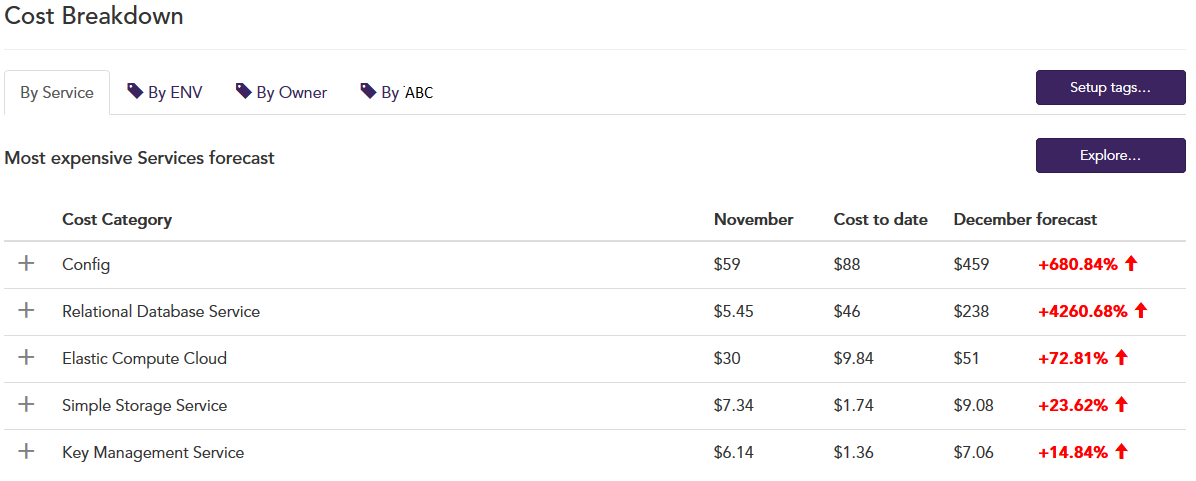 Cost Forecast
More details for each breakdown type can be found by clicking on Explore in Most Expensive summaries. Here you'll find a report with:
Full details (i.e. all cost contributors) of each breakdown type
Allows filtering and combinations of breakdown type filters
Allows charge types to be included and excluded
Search functionality
Cost evolution
Displays cost fluctuations over time and next month's forecast broken down by selected breakdown type. The chart can be toggled between a bar chart and a line chart.
Related
See Cost Allocation Report for how to create reports of historic costs, save, and schedule them for your accounts.