Topics on this page
14 October 2020 - General Release Notice
What's New?
Support for more Standards and Frameworks
We now support the HITRUST CSF v9.3 Standard that you can view under the View by Standard or Framework tab from the 'All Checks' report.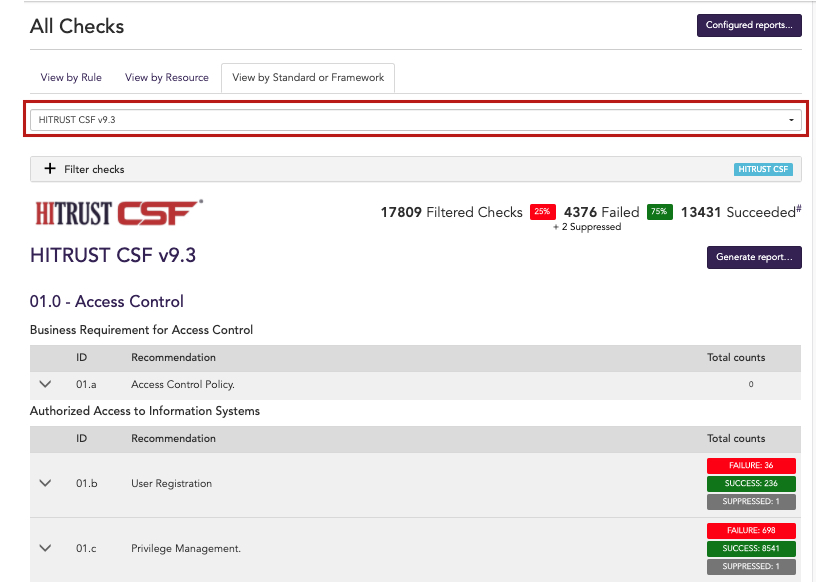 Updated AusGov ISM 2020 Compliance Standard
We have updated the AusGov compliance standard to the September 2020 version.
API support for Azure account
Trend Micro Cloud One™ – Conformity's Public API now supports adding an Azure account.
Bug Fixes
Fixed a bug where error messages returned from the Template Scanner API were not JSON API compliant.
Fixed bug where the Template scanner would not scan templates that used supported intrinsic functions with the 'Select' function.
Slack notifications that include IP address values inside the parenthesis are now properly displayed in Slack notifications.
Fixed a bug where Conformity Bot did not remove all old service-level checks after each new scan when an account was very large.
Conformity bot will not scan resources in the regions where the bot has been disabled. Please note that for US East (N. Virginia), partial scanning will still occur even if it is disabled as it is the parent or default region for global services. A new warning message has been added to cater for this scenario.
Example: When us-east-1 (N. Virginia) region is disabled, the following warning message will be displayed: 'Partial scanning will occur for region US East (N. Virginia) as global services are hosted in this region that applies to all regions of AWS infrastructure' and Conformity Bot will still scan IAM resources since IAM is a global service i.e. applies to all regions of AWS infrastructure. For details, see Conformity Bot Enabled Regions